UK Magazine showcases Pathfinder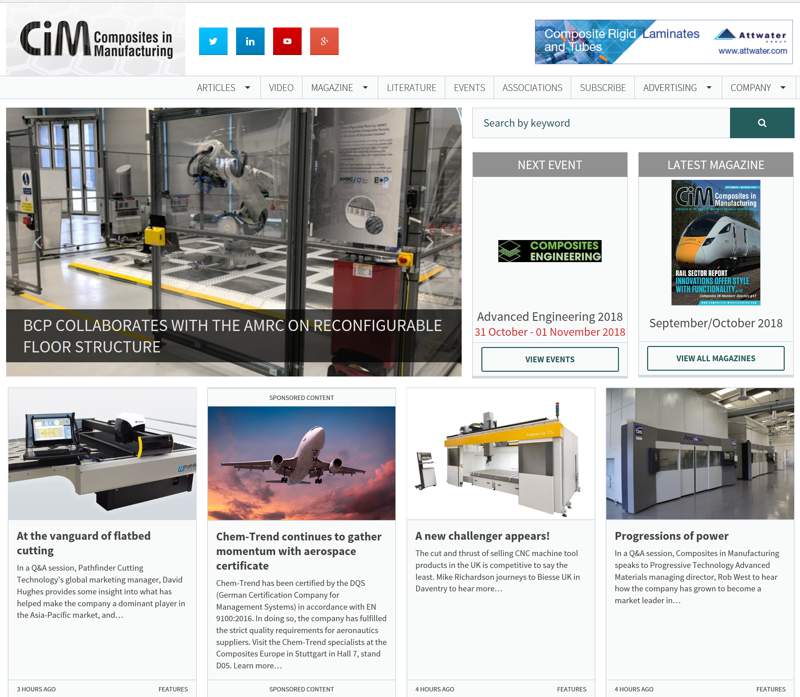 Composites in Manufacturing magazine raises UK profile
In a Q&A session, Pathfinder Cutting Technology's global marketing manager, David Hughes provides some insight into what has helped make the company a dominant player in the Asia-Pacific market, and what UK customers can expect.
As a leading manufacturer of advanced cutting solutions for manufacturers using flexible fabrics, Pathfinder Cutting Technology's mission statement is to provide the most advanced, innovative cutting room technology through a passion for its products, outstanding customer support and the highest level of reliability.
Q) What are the types of demands placed on your company by today's customers?
From the outset, we have set out to differentiate ourselves from the competition by refining our technologies through close working relationships with our customers. That has embedded a culture of continual improvement and created a range of solutions that require minimal operational downtime. Our customers expect that all of our machines require very low maintenance, a point best illustrated by our very first machine, which after 20 years of operation has required only two hours of downtime.
Our customers demand reliability and a low cost of ownership and by continually delivering on that, we've found a point of difference that works well for everyone and has built a broad base of loyal customers around the world. Our underlying ethos is that we treat others how we want to be treated.
With Wrexham-based AE-Sewing Machines now onboard as our distributor, UK customers get the benefit of more than twenty years of development into extremely reliable cutting room solutions built on technologies not found in our competitors' equipment. What's more, the team at AE-Sewing Machines have a similar 'customer first' attitude, so we know our brand is well represented and ready to take on the hardest of challenges.
Q) What is driving flatbed cutting machine technology and what are today's customers looking for in terms of performance solutions?
Pathfinder's R&D focuses on continual improvement of cut quality, material yield, ease of use and throughput. In tandem with our software development team, the user experience of our CAD/CAM software products are so simple that even unskilled operators require very little training to be as proficient as application specialists. Expensive maintenance contracts have never been part of our business model; instead we've relied on innovation to build an exceptional product. As a result, Pathfinder now offers a 'picklist' of solutions to cover everything from entry level, small shop production right through to Industry 4.0 remote operations that enables our global customers to interact with cutting machines located anywhere in the world.
Q) Tell me something about the flatbed cutter machines you supply?
UK customers may be surprised to learn that Pathfinder offers 16 multi-ply variants and 12 single ply models which can be optioned up to nearly 300 configurations tailored to suit each end application.
Our M-Series flagship cutter is available in four cutting widths (180cm, 226cm, 300cm and 390cm) and four cutting heights under vacuum (3cm, 5cm, 7cm and 10cm). Models are named according to their specification, e.g. the M10-390 cuts 10cm high x 390cm wide.
The versatility of the M-Series makes it the cutter of choice for apparel, upholstery, technical textiles and automotive interiors, given that it comfortably handles everything from Lycra to denim right through to nonwoven compressed polyethylene. Likewise, the L-Series easily handles dry woven unidirectional and bidirectional composites, prepregs, leather hides and the full swathe of technical textiles required. In fact, while there are applications that are best suited to a low ply cutter, the M-Series is versatile enough to take them all on. In most situations, the one machine can do it all.
Pathfinder has customers in virtually every sector who have owned other brands of cutters – even benchmarking them against one another – and are awed by the simplicity and versatility of our machines. Whilst historically, the majority of our customers are located in the Asia-Pacific region, our global network of distributors has allowed a rapid rise in sales across the US and Europe with sales in the UK now increasing.
Q) Do you get involved in supplying/specifying automated roll feeding of dry fabric/prepreg material equipment to the machine's bed?
As an end-to-end solutions provider, Pathfinder manufactures a range of spreading, roll feeding and conveyorised tables that are synchronised to the cutting machine. This enables markers of virtually unlimited length to be processed while requiring a very small footprint on the factory floor. All our roll feeding devices and conveyor tables are fitted with unwind/rewind control which dramatically simplifies roll handling.
What's more, our range of semi-automatic and fully-automatic spreaders enable a single operator to handle rolls weighing up to 120kg and deliver perfectly aligned, tension free material to the cutting machine.
Q) Can you say anything about customer success stories and the sectors in which these customers operate?
We have a diverse range of customers across a wide span of industries around the world. Our customers cover everything from prosthetics to aerospace and to us they are all success stories. Our greatest measure of success is the positive feedback we receive from customers who already have an automated cutting machine and discover that a Pathfinder can do things their other machines couldn't. For instance, one commercial furniture manufacturer was able to cut up to 20ply of foam backed vinyl without fusing – and with V notches for the first time. We use these 'points of reference' as a true gauge of the Pathfinder difference.
Q) How do you see the future of the UK's composites manufacturing industry and particularly subcontract kit cutting evolving in the future?
Based on current indicators, manufacturing in the UK is looking to enjoy solid growth for the next decade. We're already seeing significant potential for growth in the UK composites market through aerospace, automotive, rail, marine and defence industries.
Q) Where do you see the biggest business challenge coming from next year?
The biggest challenge is for manufacturers to overcome fears of Brexit. Now more than ever, with a potential 'no-deal' scenario creating uncertainty in the UK, it is vitally important to keep British manufacturing alive and well to help strengthen the economy. Pathfinder and AE Sewing Machines are looking forward to being a positive force that will give our UK manufacturing clients a commercial advantage.
With a growing number of Pathfinder M-Series cutting machines installed with fantastic results, we have a solid platform to build on and increase our market share. With AE Sewing Machines and Pathfinder's joint efforts, we can show our customers that what we say is what we do. The successes from our previous installations are testament to the level of quality delivered by Pathfinder's equipment. We're excited to play a part in the future of UK manufacturing.
www.pathfindercut.com
AUTHOR
Mike Richardson
https://www.composites.media/
COMPANY
AE Sewing Machines